Vases, tiles, looms, sculptures, fountains, and other objects from the Nasrid period are exhibited in the Alhambra Museum, an essential visit to know in depth the legacy of the star monument of Granada.
On the first floor of the Palace of Charles V is the Museum of the Alhambra, a space that houses the best collection of Nasrid art in the world. In addition to exhibiting pieces of this dynasty, the museum houses pieces belonging to other periods of Al-Andalus that allow you to travel through the history and art of al-Andalus.
The objects and pieces on display were found in the excavations of the Alhambra and the Generalife, so a visit to this museum is essential to understand the overall history of the monument.
The collection
The Alhambra Museum has seven rooms dedicated to Al-Andalus art from different periods. The order is chronological, so we recommend you to follow the established order:
Room I: exhibits a collection of coins from the Arab period, two copies of the Koran, and a solar quadrant, among other valuable objects.
Room II: the second room houses elements from the period between the Emirate and the Caliphate of Cordoba, such as an ablutions basin with caliphal decoration.
Room III: this room is dedicated exclusively to Nasrid art. It houses several bronze and ceramic pieces, a brazier, and an ablutions basin that belonged to Almanzor.
Room IV: the fourth room exhibits elements of Nasrid architecture. Most of them belonged to buildings constructed at the same time as the Alhambra.
Room V: it houses ceramic objects, furniture, and other furnishings that were part of the interior decoration of the Alhambra. The most valuable object in the museum stands out in this room: the gazelles vase.
Room VI: in this room, you'll find tombstones that were in the palace and replicas of the lamps and crockery that decorated the rooms of the palaces.
Room VII: the last room of the museum is dedicated to daily life in the Alhambra. It exhibits toys, furnishings, coffered ceilings, and some crockery.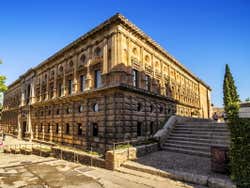 Schedule
From October 15 to March 14:
Wednesday to Saturday: 8:30 am to 6 pm
Sundays and Tuesdays: 8:30 am to 2:30 pm
Mondays: closed
From March 15 to October 14:
Wednesday to Saturday: 8:30 am to 8 pm
Sundays and Tuesdays: 8:30 am to 2:30 pm
Monday: closed
Transport
Bus: line C30 and C32.