In the Palace of Charles V, next to the Alhambra, is the most important art gallery in Granada: the Museum of Fine Arts. It houses over 2,000 pieces of art, including paintings and sculptures.
The Museum of Fine Arts of Granada opened its doors in 1839, becoming one of the first public museums in Spain. In its 6 rooms, it houses over 2,000 pieces by artists such as Alonso Cano, Pedro Machuca, Jose de Mora, and Juan Ramirez.
Located on the second floor of the Palace of Carlos V, this museum exhibits oil paintings, polychrome wood, altarpieces, triptychs, sculptures, and choir stalls made between the 16th and 18th centuries.
This variety of techniques stands out against the almost exclusively religious theme of most of the works. This is due to the fact that many of the pieces on display were recovered from the convents and monasteries that remained in the hands of the State after the disentailment of Mendizabal in 1836.
The Museum of Fine Arts was inaugurated three years later in the former convent of Santa Cruz de la Real. After passing through several venues, it was finally installed in the Palace of Charles V, where it has remained since 1958.
Room I: it gathers works with great Flemish influence, due to the lack of models to follow in the Spanish art of the XV century. It highlights a large sculptural group in polychrome and gilded wood.
Room II: it houses paintings and sculptures by the Granada artist Alonso Cano. It is one of the most interesting rooms in the whole museum.
Room III: the third room is dedicated to the painters who followed in the footsteps of Alonso Cano, such as Pedro Atanasio, Juan de Sevilla, or Jose de Mora.
Room IV: the works in this room avoid religious themes and represent landscapes, portraits, and still lifes.
Room V: covers the art of Granada in the 19th century, mainly dedicated to the decoration of the houses of the bourgeoisie.
Room VI: brings together works by different artists who portrayed Granada and used the city's landscapes as the main theme of their works.
Room VIII: this room brings together works by artists who achieved international recognition in the 20th century.
Room IX: The last room of the museum is dedicated to Contemporary Art.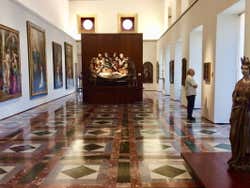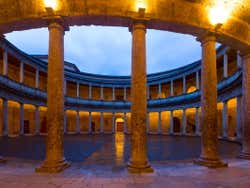 Schedule
From April 1 to October 14:
Tuesday to Saturday: 9 am to 8 pm
Sundays and holidays: 9 am to 3 pm
Mondays: closed
From October 15 to March 31:
Tuesday to Saturday: 9 am to 6 pm
Sundays and holidays: 9 am to 3 pm
Monday: closed
Price
Citizens of the European Union: free admission
Citizens of other countries: 1.5EU
Transport
Bus: lines 30 and 32