Discover one of the most visited tourist attractions in Granada and take a close look at the crypt that houses the remains of the Catholic Monarchs, as well as personal objects of the monarchs who changed the history of Granada.
History
The history of Granada has been closely linked to the figure of the Catholic Monarchs. The pair of monarchs arrived in the city in 1482 and carried out an important military campaign known as the War of Granada, which ended with the permanent expulsion of the Muslims from the peninsula and the capture of the city.
Isabella I of Castile and Ferdinand II of Aragon decided to build their sepulchral chapel in the capital of Granada and consecrate their lives forever to this city. The chapel was built on the site of the old main mosque of the city and its construction was not completed until 1517. Until then, the remains of the Catholic Monarchs rested in the convent of San Francisco de la Alhambra.
The Royal Chapel is dedicated to St. John the Baptist and St. John the Evangelist and both the interior and exterior of the building follow the austere aesthetic requested by Queen Isabella. However, at her death, her husband did not respect this wish and ordered the construction of the tomb in a Renaissance style full of details.
The tomb of the Catholic Monarchs
In the center of the chapel's transept are the tombs of Isabella I of Castile and Ferdinand II of Aragon, and of their heir daughter Joanna and her husband Philip. Both tombs are carved in marble and represent the figures of the monarchs on a large scale. The funerary monument is decorated with medallions, figures of saints, and angels.
Under the tomb, there is a small crypt that can be accessed by stairs. Here you can see the lead coffins of the four members of royalty and the sarcophagus of the grandson of the Catholic Monarchs, the infant Miguel de la Paz, who died as a child.
This crypt of marked austerity also houses personal objects of the Catholic Monarchs, such as their crowns and the scepter they used.
The Sacristy-Museum
The Royal Chapel also houses an exhibition of the legacy of the Catholic Monarchs. In the Sacristy Museum you'll find several paintings by Flemish artists that were part of the private collection of Queen Isabella, the ceremonial costumes of the monarchs, and books and jewelry used in their daily lives.
Must-see
The Royal Chapel is a must-see monument in Granada. You'll be able to see the whole chapel complex and admire the tombs of the Catholic Monarchs.
If you want to visit the Cathedral and the Royal Chapel, check out this guided tour in English.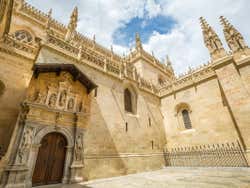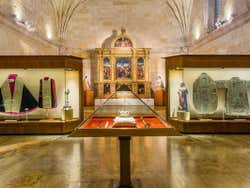 Schedule
Monday to Saturday: from 10 am to 6:30 pm
Sundays and holidays: 11 am to 6 pm
Closed: Good Friday, December 25, and January 1
Price
General admission: € 5 (US$ 5.40) (audio guide included)
Students up to 25 years old: € 3.50 (US$ 3.70)
Children under 12: free admission
Free visit on Wednesdays from 2:30 pm to 6:30 pm
Granada Cathedral & Royal Chapel Tour € 34 (US$ 36.40)
Transport
Bus: líneas 8, 21, 33, C31, C32 y C34