Federico Garcia Lorca House Museum
Visit the house where Federico Garcia Lorca lived for ten summers and discover personal objects and manuscripts of one of the most important playwrights and poets of the 20th century.
Following in the author's footsteps
The quintessential artist from Granada and one of the most influential playwrights and poets of Spanish literature lived in this house in Valderrubio for a decade (1926-1936). During this time, Federico Garcia Lorca wrote major literary pieces such as Romancero gitano or La casa de Bernarda Alba and met his contemporaries such as the composer Manuel de Falla. 
This house museum preserves the structure and the original furniture of the author's house. During the guided tour it's possible to see original objects of Garcia Lorca, as well as drawings and manuscripts he made shortly before he was executed by Franco's troops.
The house was built in the 20th century and keeps the sober decoration of the time.
Quite far from the center of Granada
We consider that the House Museum of Federico Garcia Lorca is worthwhile for those who enjoy his work. However, it is a bit far from the center of Granada so it is best to leave this museum until after having seen the main attractions in Granada.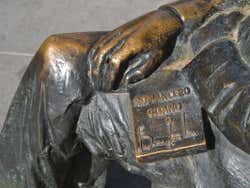 Schedule
Guided tours are every 45 minutes
Mondays: closed
From September 16 to May 1
Tuesday to Friday: 9 am to 5 pm
Weekend: from 9 am to 5 pm
From June 1 to September 15
Tuesday to Sunday: 9 am to 3 pm
Price
General admission: € 3 (US$ 3.20)
Children from 6 to 12 years old, students, retired people and seniors over 65: € 1 (US$ 1.10)