In the very heart of Granada you can go back to the 14th century, an old Andalusian alhondiga from 1336. What is an alhondiga, you might ask? And what is it used for now? Let's find out all about the Corral del Carbon in Granada.
The Corral del Carbon is the only Arabian alhondiga still standing in the Iberian Peninsula. It is located in the heart of the city and is preserved almost in its entirety thanks to the reforms carried out in recent years.
This Andalusian alhondiga was built in 1336 and is a reflection of the history of Granada and the Arab legacy that remains present in the city. One of its main interesting features is the contrast between the characteristic Arab architecture and the ornamentation of Granada.
What's an alhondiga?
This is a public building in the Middle-eastern architecture used to shelter merchants and their goods during the celebration of large international markets. Since the 12th century, Granada was an essential stop on trade routes, so the Corral del Carbon was especially important during the Zirid and Nasrid periods.
The alhondigas had large warehouses to store goods such as grain or wheat, and rooms to accommodate traders. The Corral del Carbon also enjoyed a strategic location next to the Alcaiceria, the old silk market, and the Great Mosque.
After the Christian conquest, the coal merchants became the main guests of this alhondiga, which received the name of 'Corral del Carbón' (Coal Barn).
What to see in the Corral del Carbon in Granada
The most remarkable aspect of the Corral del Carbon is its façade, wedged between two streets in the center of Granada. The tower has a large horseshoe arch decorated with plant motifs and inscriptions from the Koran. The courtyard of the alhondiga is surrounded by three floors connected by a gallery and in the center, there is a pillar where the pack animals used to drink from.
After the conquest of Granada, the Catholic Monarchs handed the building over to the nobility. Years later, the Corral del Carbon became a playhouse and a tenement house. Today, it houses a bookstore on Andalusian legacy and a ceramics workshop.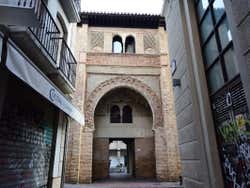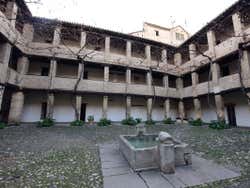 Schedule
Monday to Friday: from 10:30 am to 1:30 pm and from 5 pm to 8 pm
Saturdays: from 10:30 am to 2 pm
Sundays and holidays: closed
Transport
Bus: lines 11, C30, C32 and C35