The Science Park is the best way to play with science and learn interactively about physics, biology, robotics and other fields.
An interactive museum
The Science Park of Granada is a 70,000 square meter (17 acres) complex dedicated to various branches of science, such as physics, chemistry, and biology. Its main attraction is its interactive exhibits, designed to involve visitors and encourage educational entertainment.
The museum's various exhibits explain concepts related to the universe, the biosphere, light, and color, robotics, and science in general. Also, the Science Park often hosts temporary exhibits dedicated to technology, music, and various other topics.
The museum also houses a large 50-meter-high (164-foot-high) observation tower, perfect for overlooking the city, Granada's most important neighborhoods, and some of its main monuments, such as the Alhambra.
Science Park areas
As well as the museum's permanent exhibits, the Science Park also houses several exhibition rooms:
 
BioDome: the best way to discover the Earth's biodiversity is to visit this room with over 200 species of animals and plants from all over the planet.
Planetarium: the planetarium offers 360-degree views of the universe. Also, you'll be able to observe more than 7,000 stars recreated through a high-tech telescope.
Tropical Butterfly Garden: this room houses over 20 species of butterflies from all over the world amidst dozens of tropical plants.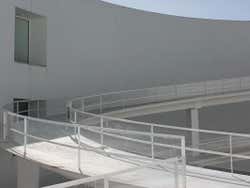 Schedule
Monday: closed
Tuesday to Saturday: from 10 am to 3 pm
Sundays and holidays: from 10:00 am to 3 pm
Price
General admission to the museum:
Adults: € 7 (US$ 7.40)
Under 18 and over 65 years old: € 6 (US$ 6.40)
Museum + BioDome
Adults: € 11 (US$ 11.70)
Under 18 and over 65: € 9 (US$ 9.60)
Planetarium
Adults: € 2.50 (US$ 2.70)
Children under 18 and over 65: € 2 (US$ 2.10)
BioDome
Adults: € 6 (US$ 6.40)
Under 18 and over 65: € 5 (US$ 5.30)
Transport
Bus: SN5, S0, C5, SN2 and SN3 lines